Lonestar Tumbler, Model LT-5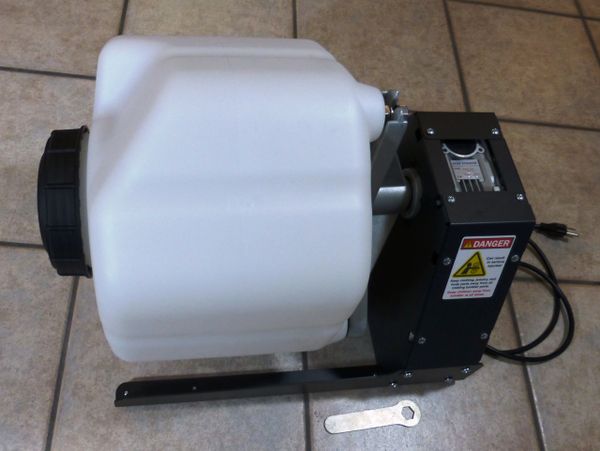 Lonestar Tumbler, Model LT-5
Lonestar Tumbler, Model LT-5
The LT-5 was designed for the reloader who wants a high capacity tumbler that will last for many years. The LT-5 tumbler has a high capacity drum (5-1/4 gallon) for cleaning and polishing brass cartridges cases. The tumbler utilizes a total of 8-ball bearings to deliver dependability. The LT5 was in design development and testing for 8 months to ensure it had a robust efficient design for only one purpose "cleaning brass cases".

The heart of the LT-5 tumbler is the industrial rated AC motor that utilizes 2-ball bearings, and a built in fan for cooling. As a safety feature the motor has thermal protection that will shut down the motor if it is overloaded. The motor operates on 110/120 volts AC, 1.0 amps.
The motor is attached to a 90 degree gear reducer that utilizes 4-ball bearings with lubricant. The gear reducer utilizes precision metallic gears (no cheep plastic gears here).
The tumbler frame utilizes an additional 2-ball bearings to carry the weight of the drum contents. These two bearings have a calculated load rating (cantilevered load) of 425LBS in the drum ( this gives a 6X safety factor on the bearings with the drum and contents weighing 70 pounds).
The Drum is mold using "Linear low density Polyethylene resin", this resin is ideally suited for this application because of it's toughness and stiffness properties. The drum is manufactured using "rotational molding" (Roto molding) process. The opening of the drum has a 4-3/4" diameter to allow your hand easy access. The drum has a wall thickness of 1/4" nominal thickness. The drum dimensions are: Length = 12-1/2" Diameter = 14-1/4". The weight of the drum is 5 pounds.

This product is assembled in the USA by a highly skilled American worker.
The LT-5 Tumbler has the maximum capacity of 10 pounds of brass cases with 10 pounds of stainless steel media .
The combined weight of the brass and media is limited 20 pounds maximum for the LT-5 tumbler.
By using more media than brass it will decrease the tumbling time below the 1.5 hour standard time. If you are tumbling 5 pounds of brass you can use up to 15 pounds of media.
To show the maximum number a different cartridges that can be tumbled in a single batch see below chart:
| | |
| --- | --- |
| Cartridge | Pcs/Batch |
| 9mm | 1200 |
| 40SW | 1000 |
| 45ACP | 800 |
| 223 | 750 |
| 22-250 | 450 |
| 308 | 350 |
| 3006 | 300 |
| 284WIN | 300 |
| 7mm Rem Mag | 200 |
Reviews
Featured Products